Simon Costin and the Museum of British Folklore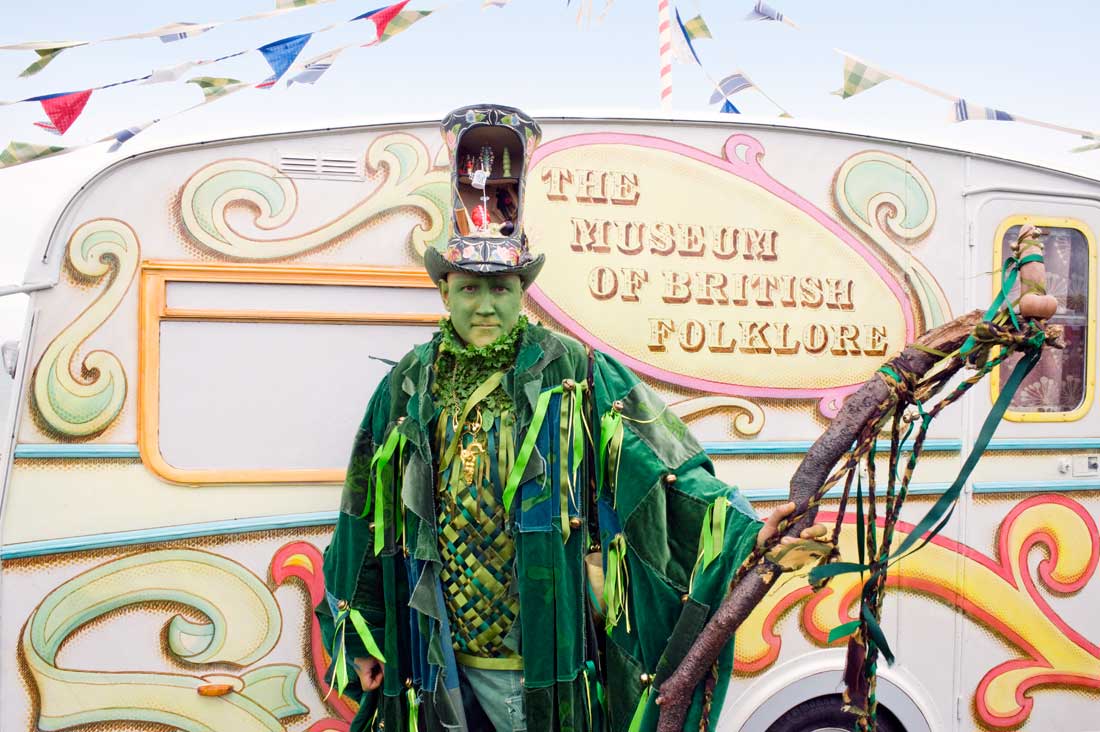 Simon Costin has helped create some of the most seminal fashion images of recent history. A regular collaborator with photographer Tim Walker, he submerged Kristen McMenamy, dressed as a mermaid, in a tank of water and squashed Coco Rocha into a minature greenhouse. For Alexander McQueen, another collaborator and friend, he turned a stage into a lake for the designer's 'La Poupee' SS1997 show and created the post-apocalypse urban landscape for 'It's A Jungle Out There' AW1997. Last spring, Costin presented John Galliano's first Artisanal collection for Maison Margiela amid a jungle of huge white packing crates, creating the scene of recently opened parcels and providing the perfect counterpoint to the designer's exuberant creations.
Other clients include Bulgari, Lanvin, Hermes, Valentino and Ferragamo for whom he has surrounded Cinderella carriages in candles and re-created cityscapes in ballrooms. Costin's work is viscerally beautiful and outworldly, drawing inspiration from myth and fantasy, nursery rhymes and ancient stories; from the darkest parts of our psyche and our deepest springs of joy.
This richness and complexity stems from Costin's true passion and his main creative activity, the Museum of British Folklore. In 2009, Costin - wearing a hat by Stephen Jones and coat by Gareth Pugh - took a caravan full of artefacts associated with Britain's traditional folkloric events around the UK to publicise the Museum and to meet like-minded souls. Today, the Museum is in residence in Costin's East London home but the aim, as explained in a film short by director Tom Chick, is to create permanent premises. Last year, I spoke to Costin about the appeal of the vernacular and his plans for the Museum.
Bel: Folklore is a passion for you. When did it begin? Simon: It was always bubbling in the background. My parents had a Readers Digest book, Folklore Legends and Myths of Britain. I loved it because it represented something fantastical but real. If you go to Ottery St Mary barrel burning on November 5, it's insane. It's so dangerous and raw and dirty and smoky. In day-to-day, we never experience those things.
Bel: Describe a folkloric event. Simon: I talk about ghost bikes a lot, those wayside shrines when a cyclist gets killed. That's folkloric expression. Most customs are very unique to the place. Take the Saddleworth Rushcart in Yorkshire. Communities build rushcarts and try to outdo each other's cart and the carts become extraordinary in design, weighing up to 5 or 7 tons. The Saddleworth Rushcart requires 100 men, 50 on the front and 50 on the back, to pull it so it's a team effort. What makes it personal to each community is the jockey. When I went, about three years ago, the jockey was the local policeman. His banner represented the murder of a local policewoman so it had a poignancy to it but it was also a celebration of her life. That's what so many folk culture events represent. It's a way for communities to express themselves in meaningful ways that are particular to them and have a resonance for them because they keep it alive.
Bel: Is there a pagan element to the festivals? Simon: The pagan umbrella that folklore often gets put under is a misnomer. Most seasonal events are 17th to 19th century in origin - like Jack-in-the-Green, a May Day festival where everyone's painted green and parades through the streets. You might think that's a pagan festival to celebrate the coming of summer but it was originally chimneysweeps out of work in the summer months because no one was lighting fires. They'd construct a garland and parade through the streets playing rough on pots and pans; it was a sort of legalised begging. Over the years, the garland got bigger and bigger till it covered the person. But that's an urban tradition. It grew up in cities. The Notting Hill Carnival is [another] perfect example. It was set up by the people who need to celebrate something. All those aspects of folklore - celebration, community, the vernacular, craft - can happen anywhere.
Bel: Why did you decide to open a museum? Simon: I love museums and I was frustrated I couldn't go to any one institution and learn more. So I bought a caravan on eBay - very sweet, a 1976 tourer - gutted it and designed it so that it was very eye-catching, filled with display cabinets full of objects from my collection and we set off for six months around the country. We had a big launch event at Cecil Sharp House in Primrose Hill. Tim Burton and Helena Bonham-Carter and Rei Kawakubo from Comme des Garcons attended. It was the strangest mix of folky people and morris people with high fashion and film and media, which are the worlds I inhabit so perhaps it wasn't surprising.
Bel: What do you remember most from the trip? Simon: The human warmth, the 'thank god someone's doing something about this.' Many of the events we went to imagined that this was just their thing. I went to the Orkneys where they have this remarkable event called the Festival of the Horse in the village of St Margaret's Hope. There's always a slight fear that there's this Londoner coming up but there was also an incredible warmth and welcome. People couldn't believe I'd come up to see them. It was very touching. I've stayed in contact with them.
Bel: Since then, the Museum has taken the form of a series of exhibitions ... Simon: My project manager Mellany Robinson and I spent two years creating a diverse range of exhibitions of folklore. It was so apparent there was more interest in what I was doing than I'd imagined. For instance, we wanted to do an exhibition on the history of fireworks so we approached institutions like Compton Verney. And no one said no because they all saw the worth in the work. We contacted photographers who'd been working in the 1960s and 1970s, like Brian and Sally Shuel and Homer Sykes, as well as contemporary artists who used folklore for inspiration.
Bel: Does folklore often cross over into the arts? Simon: Yes. During this time, I was working with Gareth Pugh and he got very excited and did a collection of tatter capes and pentacles inspired by folk costume for SS15. I'm really interested in something that, on paper, seems niche and obscure and not that relevant to wider popular culture - but it is, because it's grown from that place, from the vernacular.
Bel: Where do you find your items for the museum? Simon: One of the challenges is that there's very little material culture developed through folk practice because it's either burnt at the end of the festival or thrown away. The first things I got were some jig dolls, little wooden articulated figures used as percussive instruments by street performers. I've now got 40. People donate and I'm constantly on eBay and auction sites - but they're hard to find. That's why we'll be using film and photography in the museum.
Bel: Two years ago, you began a project to document the hundreds of Morris sides currently active in Britain. Simon: I struggled to think about representing Morris dancing within the context of a museum. It would be so easy to have a room full of film footage and photographs but that would appeal mostly to other Morris dancers so I thought of inviting teams to dress their own mascots in their team kits. The response has been amazing. People have used their own hair to make beards; or they put a little note saying "I know no one will see this in the exhibition but if you lift her skirt …" and then she's got stockings and suspenders underneath. It's hysterical. That has integrity for me because you're involving the people who are doing it.
Bel: Do you have a favourite item? Simon: I was given a costume by the character who plays the Fool in Haxey Hood in North Lincolnshire. The Hood is a rolled piece of leather and it's a really potent object for me. Tradition has it that the local lord and lady were riding through the fields when her bonnet flew off in the wind. The farmhand who brought it back was granted two fields. Now, the catching of the hood has grown into this brutal event called the Sway, where two opposing villages fight for the hood. It's like a rugby scrum with literally hundreds of men, joining in. It's freezing cold and muddy. People are carried out on stretchers. Lots of scores get settled.
Bel: Does the aesthetics of folkloric items appeal to you in particular? Simon: The rawness, the lack of technical skill, does appeal. Folk events express themselves in a very visceral way. Things have been made immediately and it's stronger for that because it hasn't been pored over and layered with meaning.
Bel: That's a contrast to your work as a set designer. Which approach do you enjoy more? Simon: Both. If you're doing a photo shoot with Tim Walker, you're creating this world that Tim inhabits with his photography. It's an absolute pleasure to try to think of every aspect of that, the colours, the textures, the sense of scale. They're still very exciting to me.
See Cuckoo's Nest, a new project which sees up-and-coming artists, designers, and illustrators from London gallery Beach respond to objects from the Museum of British Folklore's collection at Pick Me Up Graphic Arts Festival, till May 2, 2016, Somerset House http://pickmeup.somersethouse.org.uk/2016, www.beachlondon.com, www.museumofbritishfolklore.com